glamjam
Lately, I haven't been doing much in the way of art (although I'm now working on a painting for friends). The most creative thing I've been doing with any sort of frequency is cooking, so...I've decided to start posting about that. I'm terrible at starting up new projects and forgetting them, however, so I'm not going to make a separate journal/blog for food - I'm just going to post things here. I hope you all don't mind. ;)
Blueberry Banana Bread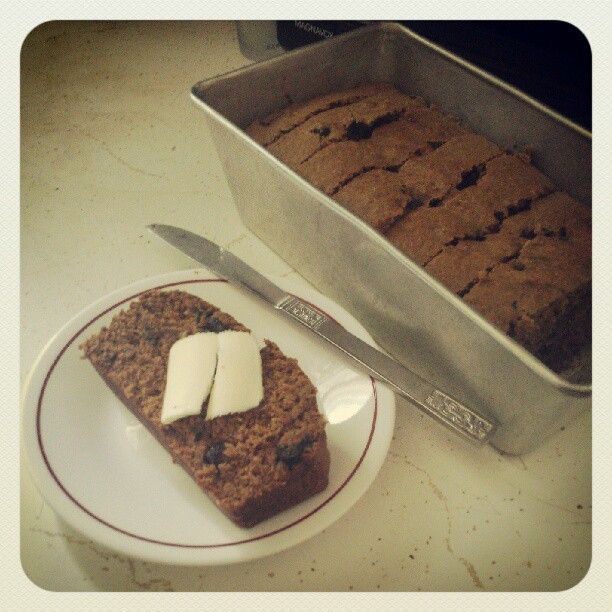 (Adapted from from
Veganomicon
by Isa Chandra Moskowitz & Terry Hope Romero.)
I used to make banana bread a lot, particularly before I cooked very much and felt inept. I guess I got caught up in more complicated recipes and forgot about it for several years. 8 bananas, hot summer days, and the ensuing RIPE!!!1ONE bananas certainly brought it back to mind, though. Whatever recipe I used to use, I no longer have, so when scrambling around this morning, I remember that I've actually got some cookbooks that have EVERYTHING in them, like
Veganomicon
. Except I didn't have applesauce and wanted to use some frozen blueberries, so I came up with the following. Also, given the oven in my house, next time I'll bake the bread for the full 50 minutes - the bread was completely delicious, but the center was a little gooey.
Makes 1 loaf, which serves 8
2 large OR 3 medium bananas
1/4 cup milk of your choice
1/4 cup oil
1/2 cup sugar
2 tbsp molasses
2 cups all-purpose flour (though I used whole wheat)
3/4 tsp baking soda
1 tsp cinnamon
1/4 tsp nutmeg
1/4 tsp vanilla extract
1/2 tsp salt
1 cup blueberries, fresh or frozen
Preheat over to 350 degrees F. Lightly grease a 9x5-inch loaf pan.
In a large mixing bowl, mash bananas well. Add the sugar, milk, oil, and molasses. Whisk briskly to combine.
Add the flour, baking soda, cinnamon, nutmeg, salt, and vanilla extract. Use a wooden spoon to mix until the wet and dry ingredients are just combined. Fold in the blueberries.
Transfer batter to the loaf pan and bake for 45-50 minutes. The top should be browned and a knife inserted through the center should come out clean. Remove from the oven and let cool before cutting.
Vegetarian Tetrazzini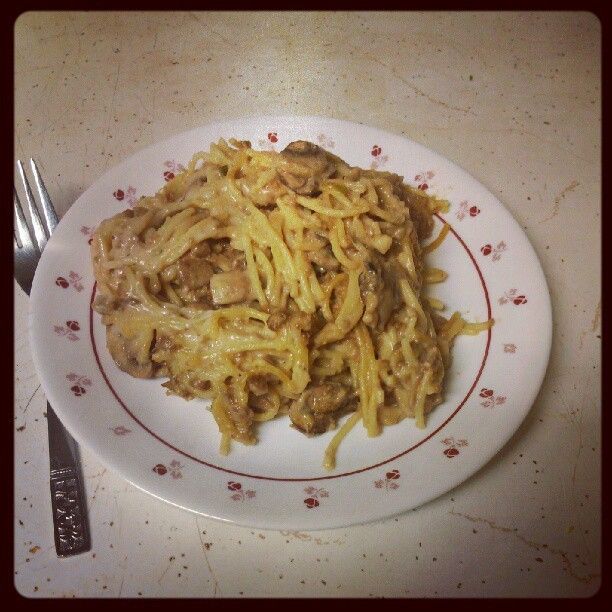 (Adapted from
this recipe
at
The Law Student's Cookbook
.)
This was my first time ever having tetrazzini, so I didn't have anything to compare the outcome of this recipe to. It was good, but a little bland over all. I'll probably try to spice it up more next time, probably by the addition of sauteed onion, more garlic, add some cheese to the sauce, and possibly parsley. Still, a very comfort food-y dinner.
Serves 8
1 lb spaghetti, broken into thirds
1 tbsp olive oil
2 cloves garlic, minced
2 scallions, sliced
24 oz mushrooms, sliced
1/2 cup butter or margarine
1/2 cup flour
1/4 tsp kosher salt
1 tsp ground black pepper
2 cups vegetable broth
2 cups half & half
1/4 cup white wine
12 oz ground "meat" (I used Smart Ground)
1 cup Parmesan cheese, grated
Preheat oven to 350 degrees F. Boil water in a pot over high heat and cook the noodles according to the directions on the package.
Heat olive oil in a skillet over medium-high heat. Saute the garlic and scallions partially cooked, then add the mushrooms and saute until they release their liquid. Set aside.
Melt the butter/margarine in a small skillet. Stir in the flour, salt, and pepper and cook for a minute until smooth and bubbly. Stir in the vegetable broth, wine, and half and half until just boiling. Let boil for 1 minute, stirring.
In a casserole dish combine the "meat" and mushrooms, then add the spaghetti and combine, and finally the sauce and combine.
Sprinkle with cheese and bake uncovered for 30 minutes.