glamjam
Homemade Seitan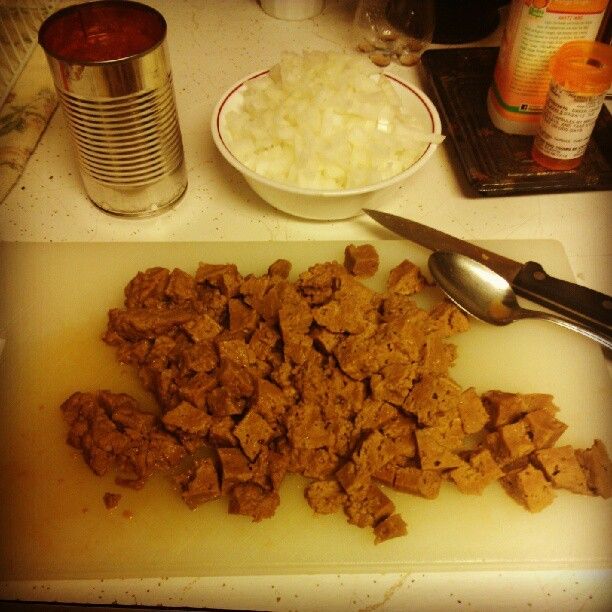 (From
Veganomicon
by Isa Chandra Moskowitz & Terry Hope Romero.)
I still marvel a little that seitan's so easy to make at home, although that still doesn't help me make it with any frequency. Still, it's a simple process and it's *fun*. Just don't try to eat a piece of the raw dough
like I've done several times
because it's like chewing gum.
Makes 1 lb
1 cup vital wheat gluten
3 tbsp nutritional yeast
1/2 cup cold vegetable broth
1/4 cup soy sauce
1 tbsp olive oil
2 cloves garlic, pressed or grated
Broth:
4 cups broth
4 cups water
1/4 cup soy sauce
Mix the gluten flour and yeast in a large bowl. In a smaller bowl, combine the broth, soy sauce, olive oil, and garlic. Pour the wet ingredients into the dry and stir with a wooden spoon until most of the moisture has been absorbed and the wet ingredients are partially clumped up with the dry. Use your hands to knead the mixture for about 3 minutes, until the dough is elastic. Divide with a knife into three equal pieces and knead those pieces in your hand to stretch them out a little.
Fill a stockpot with the broth, water, and soy sauce and stir. Add the wheat gluten pieces, cover, and bring to a boil. Try to catch it as soon as it boils and lower the heat as low as possible while still simmering. Partially cover the pot, so steam can escape, and let simmer for an hour, turning the seitan occasionally. Turn off the heat and take the lid off; let sit for 15 minutes.
Remove from the broth and place in a strainer until it's cool enough to handle. Now slice and use as you'd like. If you have extra seitan, store in the cooking broth in a tightly covered container.
Indian Butter Chicken (Murgh Makani)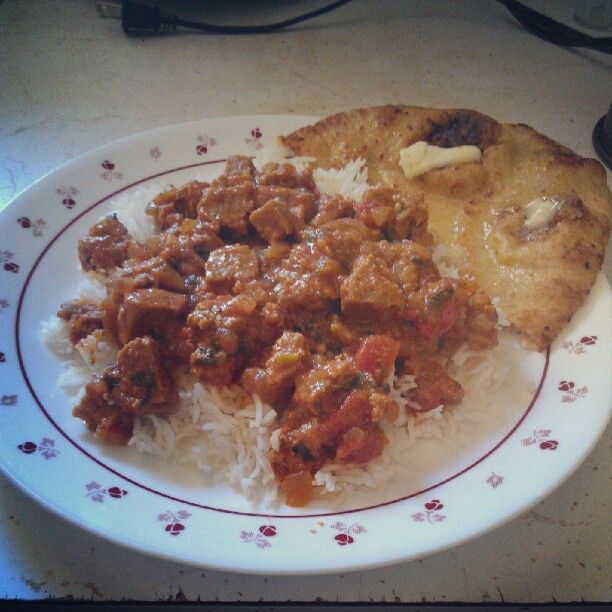 (From the local newspaper,
here
.)
It's fair to point out that I've never had "real" Butter Chicken, so I actually have no idea if this resembles the usual dish or not. Having never had it before, I was a little sad that it didn't taste more...buttery? Maybe that's because I didn't use cream. Anyway, I'll probably investigate some other recipes before I make this again.
Serves 4
1 tbsp oil
1 medium onion, finely chopped
1 - 1 1/4 lbs seitan, cut into 1-inch chunks
1/4 cup tandoori marinade (I used Patak's)
one 14 oz can whole tomatoes, finely chopped, with juice
2 cups baby spinach (optional)
1/4 cup heavy whipping cream OR plain yogurt (I used half & half)
1/4 cup cilantro, finely chopped (optional)
In a large saucepan, heat the oil over medium heat. Add the onion and saute until it begins to brown, about 8 minutes. Add the seitan and tandoori paste and cook, stirring frequently, for about 4 minutes.
Add the tomatoes and juice and lower heat to maintain a gently simmer. Cook, stirring occasionally, until the sauce has thickened, about 30 minutes. Add the spinach, if using, and stir to wilt the leaves.
Remove the pan from the heat and allow to stand for 1 minute. Add the cream or yogurt and cilantro and stir well to combine. Serve with basmati rice or naan.
Note:
If you can't find 14 oz cans of while tomatoes (which I couldn't), substitute 3/4 cup diced tomatoes and 1 cup tomato juice. An entire can of diced tomatoes will add too much tomato and not enough juice.